About MonaLisa Touch Laser Treatment

MonaLisa Touch is a NEW Proven Laser Treatment for Vaginal Rejuvenation – Heals Female Problems After Menopause!
Symptoms of Vaginal Atrophy
Vaginal Dryness
Painful Intercourse
Vaginal Burning or Irritation
Vaginal Itching
Recurring Vaginal Infections
Recurring Urinary Infections
Urinary Incontinence
Recovery from Childbirth
Reduced Sensation
Learn About MonaLisa Touch Laser and
Get Your $100 Coupon
MonaLisa Touch laser treatment is a safe and effective non-hormonal therapy that delivers gentle laser energy to the vaginal wall, stimulating a healing response and enhanced collagen and moisture levels inside and outside the vaginal canal.
Women (and specifically Rockhill Women's Care doctors and patients) are calling it "life-changing", citing relief after the first session.*
Talk to Our Doctors About Hormone-Free Healing and Renewal of Vaginal Issues After Menopause 
MonaLisa Touch laser treatment delivers microscopic heat beams to restore vaginal health and improve functionality in a fast, pain free, and nonsurgical manner with no anesthesia or downtime required.
Until menopause, the vagina and the surrounding vaginal opening are all richly supplied with estrogen receptors. When estrogen decreases at menopause, these receptors are left empty and the area atrophies.
The vaginal lining becomes thinner, less able to produce moisture, and more easily injured.
The lining of the urethra (the tube for urination) weakens.
This results in quality of life-impacting symptoms such as painful intercourse, uncomfortable vaginal irritations, urinary incontinence, recurrent vaginal and urinary infections, and reduced sensation.
These symptoms can also occur earlier in life after child-bearing.
Do You Need More Info About MonaLisa Touch Laser?
History
MonaLisa Touch laser treatment for the interior and exterior of the vagina was introduced in Italy in 2012. It was cleared by the FDA in the US in 2014.
Medical researchers had noted that facial skin was rejuvenated by using fractional CO2 laser therapy. They wondered, could this also restore vaginal and urinary functions?  Their premise was that facial laser treatment encourages restoration of connective tissue and production of collagen and elastic fiber. Perhaps laser treatment could be used to improve skin health and appearance to a pre-menopausal state. Thus, MonaLisa Touch was designed specifically for use on vaginal mucosa.
Researchers examined the vaginal mucosa pre- and post-treatment with MonaLisa Touch laser therapy.  Studies indicated the laser restored normal histological characteristics of premenopausal vaginal tissue.
Microscopic pictures of a typical menopausal vaginal lining
compared to the lining after two MonaLisa Touch laser treatments*
Before
Vaginal Mucosa in Basal Condition with Thinner Epithelium
* Courtesy of Professor A. Calligaro, University of Pavia, Italy
*Results may vary from person to person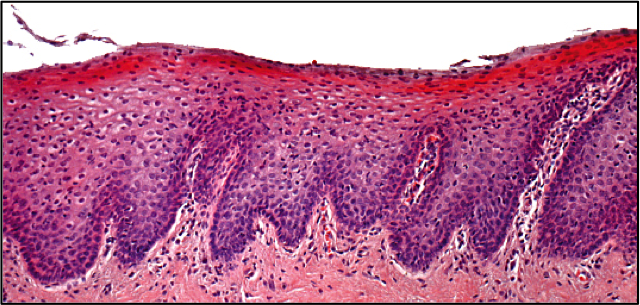 After
2 Weeks After 2nd Treatment