MonaLisa Touch FAQ's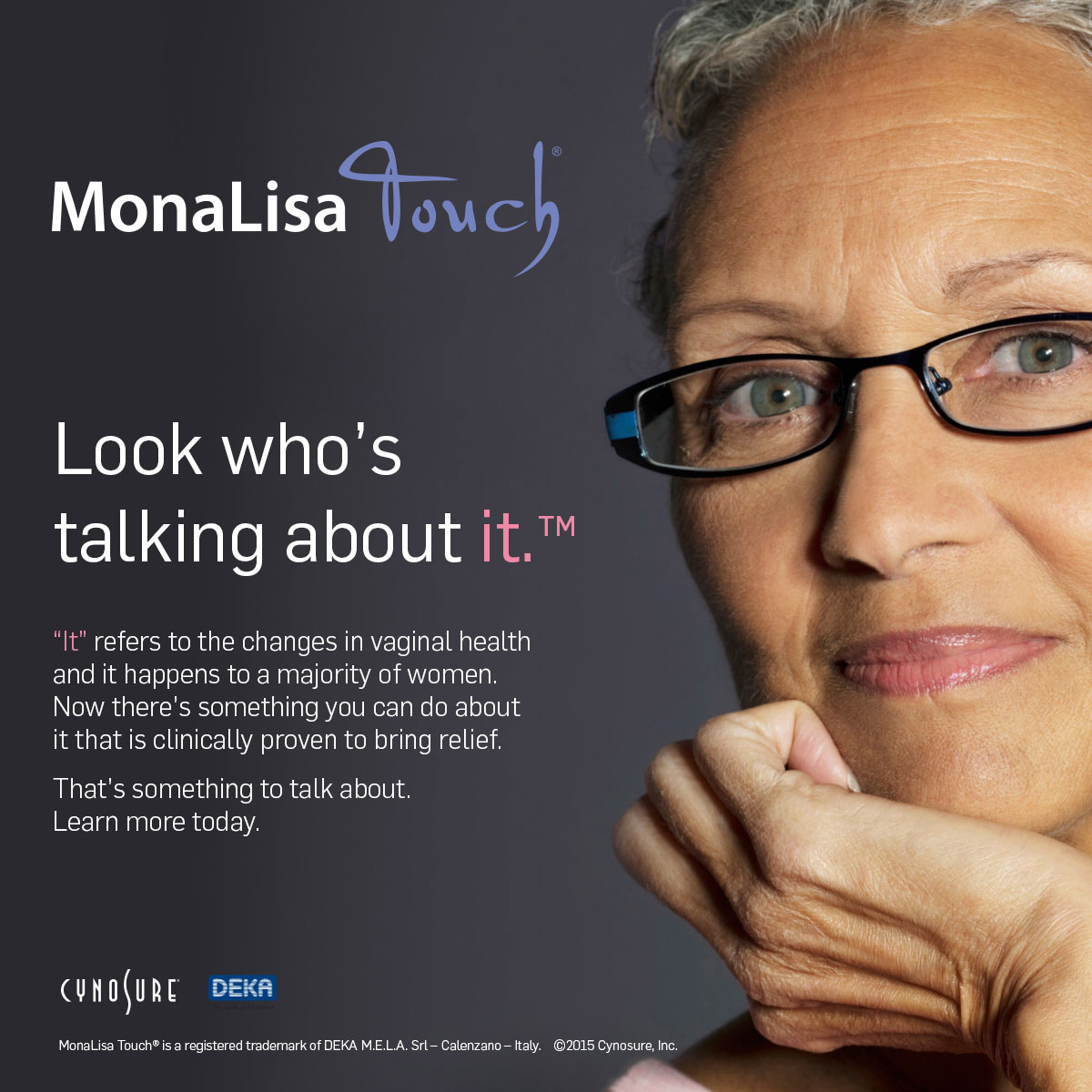 Frequently Asked Questions
Here are some answers to the following types of frequently asked questions…
What is MonaLisa Touch laser treatment?
MonaLisa Touch is a gentle laser therapy that delivers controlled energy to vaginal wall tissue. It restores vaginal health by stimulating natural growth factors and signaling tissue to generate new collagen, elastin, and improve blood vessel supply.
How does it work?
MonaLisa Touch laser treatment uses CO2 fractional laser energy on the exterior and interior of the vaginal canal. A two-part pulse targets surface (epithelial) tissue and deep (lamina propia) tissue to promote vaginal mucosa.
Who should use MonaLisa Touch laser treatment?
Treatments are recommended for any woman who wishes to treat or prevent vaginal atrophy symptoms due to lack of estrogen. These include women:
who are going or have gone through menopause and have vaginal dryness, pain with intercourse, urinary incontinence, recurrent urinary or vaginal infections, and lack of sensation
experiencing post-menopausal vaginal symptoms from a hysterectomy or breast cancer and/or cannot receive estrogen therapy
who prefer not to use hormone therapy
who are recovering from childbirth and have "loose vagina"
Can MonaLisa Touch laser treatment be used to treat vaginal laxity?
MonaLisa Touch laser treatment may be appropriate in cases where the "loose vagina" is due to mucosal loss in the vaginal lining. "Loose vagina" refers to a condition where the vaginal diameter has increased over time. This occurs from giving birth or tissue relaxation due to aging. It is important for our doctors to evaluate the cause and state of the vagina in order to exclude a pelvic organ prolapse or an involvement of pelvic muscles/tissues.
Is the fractional CO2 laser procedure safe for women with breast cancer?
MonaLisa Touch Laser Treatment is particularly well-suited for women who cannot, or prefer not, to receive estrogen therapy because it is a non-hormonal treatment.
How many MonaLisa Touch laser treatment sessions are needed?
Our protocols recommend 4 treatments spaced approximately 6 to 8 weeks apart, especially because subsequent treatments increase in laser strength and symptom abatement. Additional maintenance treatments may be needed yearly or every other year depending on initial response and symptom severity. Our medical providers, after careful examination, evaluate and recommend your optimal treatment plan.
Does MonaLisa Touch laser treatment hurt?
The procedure is virtually painless and requires no anesthesia. Some patients may experience slight discomfort the first time the probe is inserted, but the actual laser treatment is not painful. Many describe the internal application as a "gentle vibration." Numbing cream is applied for the external treatment due to the nerve sensation in that area.
How long does a treatment take?
The actual treatment is brief, only 5 minutes. However, since treating the exterior is as important as treating the interior of the vagina for maximum results, a numbing cream is applied to these more sensitive nerve endings, which adds 20 minutes to the appointment time. We offer a relaxing setting with music, videos, and reading materials for your pleasure.
What is the recovery process?
Some women report slight localized discomfort for a few days following the laser treatment.* We send you home with a gel ice pack in case some cooling is desired. Sexual activity should be restricted for 2 to 3 days after treatment. NO time off work is necessary. Most women almost immediately resume their normal routine.
*Results may vary from person to person
When will I see results and how long do the effects of MonaLisa Touch laser treatment last?
The results are immediate, beginning within the first week after the first treatment for most patients. Progressive improvement was reported in clinical trials over subsequent treatments and months and was also observed in our own experience and among our patients.* The laser is increased in strength on subsequent sessions so it is important to complete the 3-treatment package for optimal results. Single session re-treatment may be need every 12 to 18 months.
*Results may vary from person to person
How soon can I resume sexual activity?
Typically sexual activity can be resumed 2 to 3 days following treatments.
What clinical trials have been conducted on MonaLisa Touch laser treatment?
Clinical trials have been conducted in the US and Europe, both demonstrating significant benefit. (Have link here to charts that are shown on pages 23-24)
US trials were conducted on postmenopausal women and breast cancer survivors experiencing vaginal health issues. Trials assessed the use of CO2 fractional laser therapy on these women. Significant improvement was shown in both symptoms and quality of life.
Results from trials indicated:
Overwhelming positive and immediate results
Statistically significant improvement in symptoms following the first treatment
Escalation of symptom improvement after each subsequent treatment
For more information, including research papers and results, visit MonaLisaTouchKC.com
Where can I have this done?
Rockhill Women's Care offers MonaLisa Touch laser treatment in the Menorah Medical Center office at 5701 W. 119th St., Suite 225, Overland Park, Kansas 66209.
Dr. Carla Pearman and Dr. Mara Galvin have both personally experienced the process and can speak woman-to-woman with you about it. An appointment can be made with either doctor in order for them to evaluate you and recommend the optimal course of treatment. The cost of the consult is included in the treatment package.
Contact a MonaLisa Touch specialist HERE
Who performs the procedure?
Our medical doctors and nurse practitioner are certified and trained to perform the laser treatment on patients.
Is the procedure FDA approved?
MonaLisa Touch laser treatment was cleared by the FDA in 2014.
Are there any risks with MonaLisa Touch laser treatment?
Risks are minimal. There have not been any significant complications reported in over 20,000 women treated worldwide. Most women report temporary side effects of slight redness or swelling or some discomfort that usually resolves completely within days of treatment.*
*Results may vary from person to person
Are there patients who should not get MonaLisa Touch laser treatment?
There are no absolute exclusion criteria other than those related to serious local or systemic diseases. Nearly all patients with genitourinary syndrome may be safely treated.
MonaLisa Touch laser treatment might not be appropriate for the following conditions so we suggest our doctors consult with you if you suffer from: undiagnosed vaginal/cervical/other lesions, have vaginal or vulvar infections, have prolapse beyond hymen, have a history of reconstructive pelvic surgery, have a history of impaired healing or significant keloid formation, or have known anticoagulant or thromboembolic condition. We do not recommend treatment for pregnant women or those within 3 months postpartum.
How much will it cost?
Contact a MonaLisa Touch specialist HERE or call 913-601-4023 for pricing.
Will it be covered by insurance?
Insurance coverage is not available at this time. Our price includes your initial consult.
May I use my FSA or HSA account to pay for the procedure?
The MonaLisa Touch laser treatments are not covered by FSA and HSA accounts.