Dr. Gene VandenBoom, MD, FACOG – Emeritus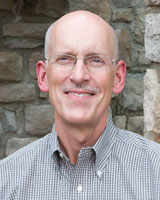 Birthplace
Kansas City, MO
Education
Undergraduate – Rockhurst College, Bachelor of Science Degree, Chemistry (1970-1974)
Post Graduate – Rockhurst College (1975-1977)
Graduate – University of Missouri School of Medicine, MD (1977-1981)
Residency
Truman Medical Center (1981-1985)
Licensure
State of Missouri (1982)
State of Kansas (2015)
Board Certified – American Board of Obstetrics and Gynecology (1987)
About Dr. Gene Vandenboom
"My background has shaped my practice. I was a working-class student throughout high school, college, and medical school. I worked in the cafeteria, kitchen, and housekeeping at my high school, worked several years in the kitchen at Baptist Memorial Hospital, and many years as a Central Supply orderly at the old Menorah Medical Center. This has given me an appreciation and respect for hospital employees at all level of service. I carry that notion of respect throughout everything I do, including the care of my patients.
I have two primary goals. In order of importance, the first is to do everything possible to ensure the safety of mom and baby. Secondly, I strive for each and every pregnancy to be a normal, vaginal delivery.
I always prioritize my patients' welfare. I initially recommend medical management for gynecological problems since this poses less risk and is more economical. I recommend surgery only after medically-appropriate attempts at management are exhausted."
I worked with Dr.
VandenBoom
for 15 years. He is an excellent doctor and will take as much time with each patient as they need. Always knew when I was his nurse that day, that it would be a late day because of his amazing care for his patients. If you choose Dr. VandenBoom you will not be disappointed.