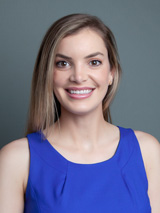 Birthplace
Memphis, TN
Education
Undergraduate – University of Kansas, Bachelor of Science in Biology with Honors and Distinction (2007-2011)
Graduate – University of Kansas School of Medicine (2011-2015)
Residency
Vanderbilt University Medical Center, Nashville, TN (2015-2018)
Licensure
Kansas and Missouri (2019) 
About Dr. Julia Johnson
Dr. Julia C. Johnson carries the family OB/GYN vocation to the next generation, as the daughter of Rockhill's Dr. Mara Galvin. In addition to her medical training at prestigious Vanderbilt University, Dr. Johnson has acquired extensive experience through her international medical and surgical work in New Zealand and Haiti. She is certified in the advanced technology of DaVinci Robotic Surgical System.
Dr. Johnson is described by her patients as approachable, nonjudgmental, informed, and a committed partner through each patient's journey, whether it be a teen's first exam, a mother's pregnancy from conception through post-partum, or helping a woman thru surgery.  In addition to her passion for obstetrics, she enjoys minimally invasive surgery, whether laparoscopic or robotic.
Dr. Johnson has many interests. She enjoys live music, city league volleyball, fitness classes, painting, comedy, karaoke, travel, and spending time with her new puppy, Gary.