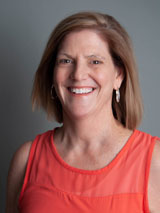 Birthplace
Kansas City, KS
Education
Undergraduate – University of Kansas, Lawrence, KS (1977-1983)
Graduate – University of Kansas, Lawrence, KS, Master of Science in Nursing (1992-1996)
Licensure
State of Missouri, Registered Nurse (1983), Nurse Practitioner (1997)
State of Kansas, Registered Nurse (2019), Nurse Practitioner (2019)
NCC Board Certification, Women's Health Nurse Practitioner (1997)
About Mary Cowan
After receiving my nursing degree, I worked as a labor and delivery nurse for over ten years. At that point, I knew I wanted to continue my education in the women's health field. As a Women's Health Nurse Practitioner, my goal is to provide excellent, compassionate, and skilled health care to females of all ages and life stages.
My experience includes routine gynecological exams, contraception, STD checks, management of mid-life concerns, and conditions associated with menopause. I collaborate with Rockhill Women's Care physicians to provide obstetrical care from pregnancy through postpartum and beyond.
Outside of work, I enjoy traveling to spend time with family and friends. I also like working out, yoga, and biking the numerous Kansas City trails.